Bar Yacht Club will participate in the 2021 City Sailing Series. These are weekend Regattas with approximately 15 City Clubs participating from Cowes over Saturday/Sunday with a social event on the Saturday evening.
Dates of the Series:
Portcullis Regatta – 10 & 11 July
Arrangements are in had for running the regatta on the due date with two races on the Saturday for the main trophies followed by a race on the Sunday morning. Moorings having been reserved in CYH, with hopefully a pontoon party followed by a BBQ on the Saturday evening.
Finn Trophy and Spread Eagle Regatta – 18 & 19 September
Arrangements are in hand for the event with moorings having been reserved in CYH and a booking at RYS for the Dinner on the Saturday night. It is likely that there will be two races on the Saturday for the main trophies with a further race on the Sunday morning for the SESC Navigator's Trophies.
John Lewis Regatta – 2 & 3 October
The Club is hopeful that the event will take place. Arrangements are in hand with the racing and socials being run out of the ISC. Arrangement are being made to moor in Shepards Marina.
Charter Arrangements
BYC members are invited to contact Rachel Spearing at rspearing@serjeantsinn.com for further information regarding participating in any of these events. Rachel has Chartered a boat with David Hunt QC to represent the BYC in the series.
The Commodore and Committee wish to encourage our new and younger members to get in touch with Rachel if they'd like to participate. A subsidy has been made available to support those under 3 years Call, or those practicing in areas of work subject to public funding.
The Boat
The boat is a Reflex 38, designed by Christian Stimpson, built in 1999 by Harley race boats in Cowes. The owner was the launch customer, having input into the design and build, specifically to custom for offshore and round the cans racing.
The boat is ISAF Cat 2 rated, has competed regularly in The Fastnet and has a competitive IRC rating certificate. Best Fastnet race result 5th in class 1, but winning the sea school trophy. The boat has won the 3 Peaks Yacht race 4 times and still holds the race record. Our owner is familiar with the series, charting with Dresdner Kleinwort / Commerzbank, winning quite a few of the bank series races and one with HSBC.
As a race boat she is quite basic but is fitted with pipe cots and comfortable cabins and working cooking/heads for sleeping aboard if you wished.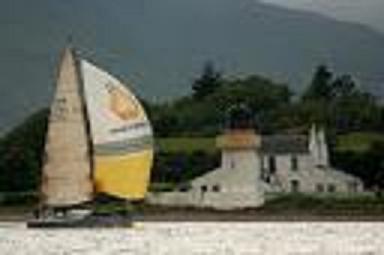 Covid Regulations
We will be following and complying with the RYA guidelines on Covid safety for sailing and events. Current information will be updated with any participant prior to the weekend sailing.